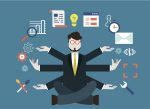 6/18/2018
Reason 21: They have access to valuable resources
Today's modern real estate agent is well-equipped when it comes to helpful resources. They silently perform a multitude of tasks simultaneously using the latest technology and gadgetry. While your agent is showing you that beautiful home you've had your eye on, your agent quite possibly may have scheduled your home to be shown at the exact same time. They communicate with other agents, lenders, inspectors, etc.. in real time, gathering valuable feedback, while seamlessly pointing out the features of the home you are being shown that meet your specific criteria.
Using their exclusive resources they also have the ability to dig deep and learn exactly how your home should be priced correctly the first time, which is one of the biggest mistakes that are made by sellers. Pricing your home to high or to low could cost you thousands of dollars and possibly waste a lot of time.
Sources:
-Sandra S. Sibley, P.A.
-brandfacerealestate.com/wp-content/uploads/2018/04/31-Reasons-BrandFace-2018.pdf#page=2&zoom=auto,-150,724
-Image: businessfirstfamily.com/effective-resource-management-techniques/