June 30, 2014
As a Realtor, it seems that I am a continuing source of recommendations on where to eat!  Not a problem, because I do have my spots and next to Real Estate, one of my favorite things to talk about.  Friday night we decided it was time to re-visit Brewburger's Pub & Grill, located just off Jacaranda Blvd on 370 Commercial Court near the Cracker Barrel.
I'm a creature of habit and once I happen on to a good dish, it's pretty much the only thing I order, for years!!  In this case, I hadn't had the Backyard Barbeque Burger in almost a year because it wasn't on the menu.  It's on the menu again and that's what I ordered.  There's nothing like it in Venice!  This is a 1/3 lb burger with a healthy helping of pulled pork on top, with BBQ sauce on a Pretzel Bun.  They normally serve it with the slaw and onion ring ON the burger, but I had mine on the side.  This picture hardly does it justice, but this is Heaven on a plate!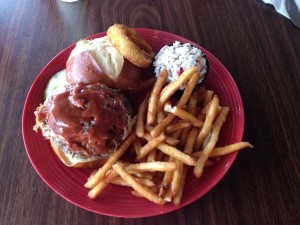 Brewburger's Pub & Grill in Venice is definitely a local favorite and for those in-the-know.  If you haven't tried it, you should.  In fact, let me know what some of your favorite dishes are and let me know?  Maybe I'll come out of my "safe zone" and try them!